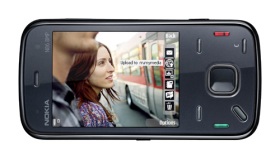 The brand new N86 8MP uses a tempered glass fascia, with a metal sub-frame and slide, adding a superbly realised 8 megapixel camera and camcorder with useable digital zoom and with physical lens protection, plus 8GB of mass memory plus microSD, to produce what many have called the ultimate incarnation of the Nokia N95's form factor.
Prior to the announcement/leak of the N900, the N86 was looking to be my next handset.
Depending on when the N900 is released I still may pick one up...